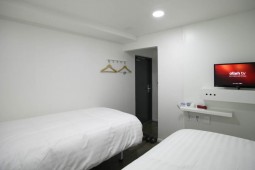 The paradaise of shopping area Dongdaemun ! K-POP Residence is located in the Dongdaemun area that is a 2 minute walk from Metro Line 2,4,5 Dongdaemun History & Culture Park Station. The residence is close to the shopping area and after shopping, you can easily go back to the hotel.
The two types of double and twin rooms. The white room is on the basis of the minimum, and there is a simple and clean feeling.
A simple breakfast is complimentary to guests. All rooms have free Wi-Fi service also. The nearest Dongdaemun History & Culture Park Station is the best possible position to be easily accessible to the main attractions of the city tourism and business. KPOP Residnce Dongdaemun is recommended for your accommodation.