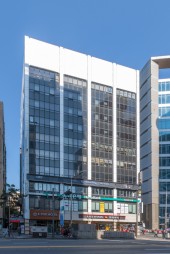 In established in April 2014, located in the Dongdaemun area KPOP apartment hotel opened, KPOP in Myeongdong Shop No. 1, No. 2, stores, Seoul Station Apartments, Chungmuro Station apartment. Dongdaemun area now opened new hotel. Around Dongdaemun History & Culture Park Subway 2,4,5 line connection, you can reach on foot from the Dongdaemun shopping center, more direct Myeongdong subway station and bus station. 
From Incheon International Airport, Gimpo Airport can easily reach the hotel, across from the airport bus stop. KPOP Dongdaemun Hotel can be easily connected to the airport, Myeongdong, and various shopping and sightseeing places. There are 46 rooms, Single rooms, Double Room, Twin Room, Deluxe Twin Room, kpop among other types, you can choose according to your needs. 
Guest house facilities are complete, and the room is large, there is plenty of space, offers free WI-FI connection and other facilities within the hotel a lot, there is a communal kitchen, are free to use the rest areas. Dongdaemun accommodation can be very convenient.